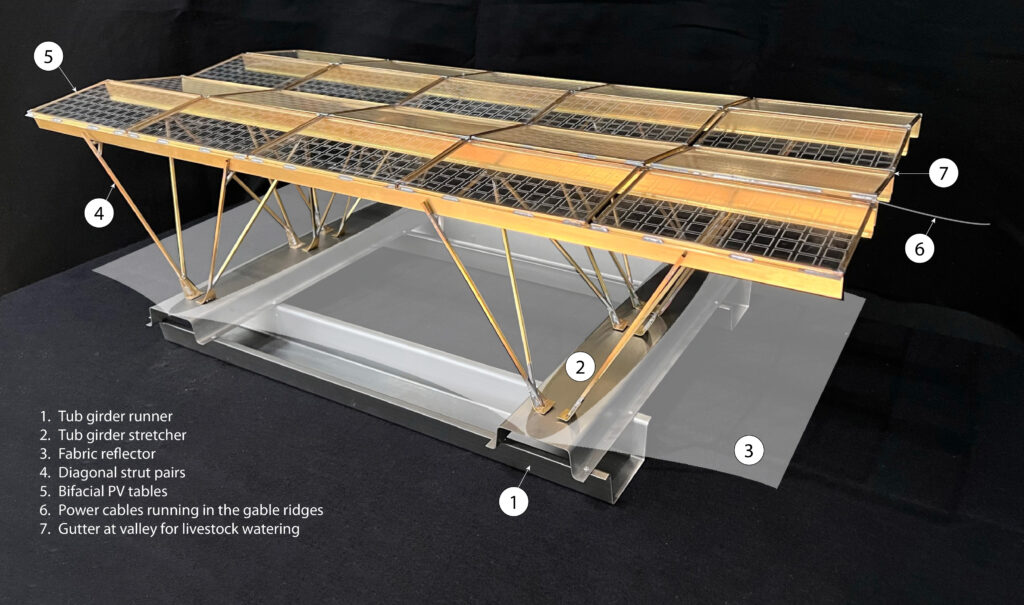 Saving Labor, Speeding Installation, Increasing Throughput
The patent-pending SunFarmor generator dramatically lowers site labor in favor of the improved efficiency of a repetitive pre-engineered module assembled at a staging area from prefabricated parts. After towing SunFarmor generators to the field in columns, crews cable SunFarmors together as a plug-and-play solution. EPCs (Engineering Procurement and Construction contractors) can increase throughput and improve quality control by prefabricating components in a controlled environment.
The SunFarmor generator is the only ground-mounted racking solution that is modular, site-assembled, and obviates foundations and fencing. The SunFarmor is the only racking solution crews can repower to lower the Total Cost of Ownership dramatically.

Three Major Components
Crews only need to assemble three types of prefabricated parts on-site to complete a SunFarmor's structure. They can complete the task in under two hours at a staging area equipped with everything they need to move fast.

One Fastener
Crews don't need to worry about which fastener to use, eliminating mistakes and time. They need only one fastener, a 5/8 inch lockbolt made by Huck, to secure the three types of prefabricated parts.

Two Sizes
Crews can build SunFarmor generators in two sizes – 36′ long (two-bay) or 50′ long (three-bay) to accommodate any landowner's need.
On-site Assembly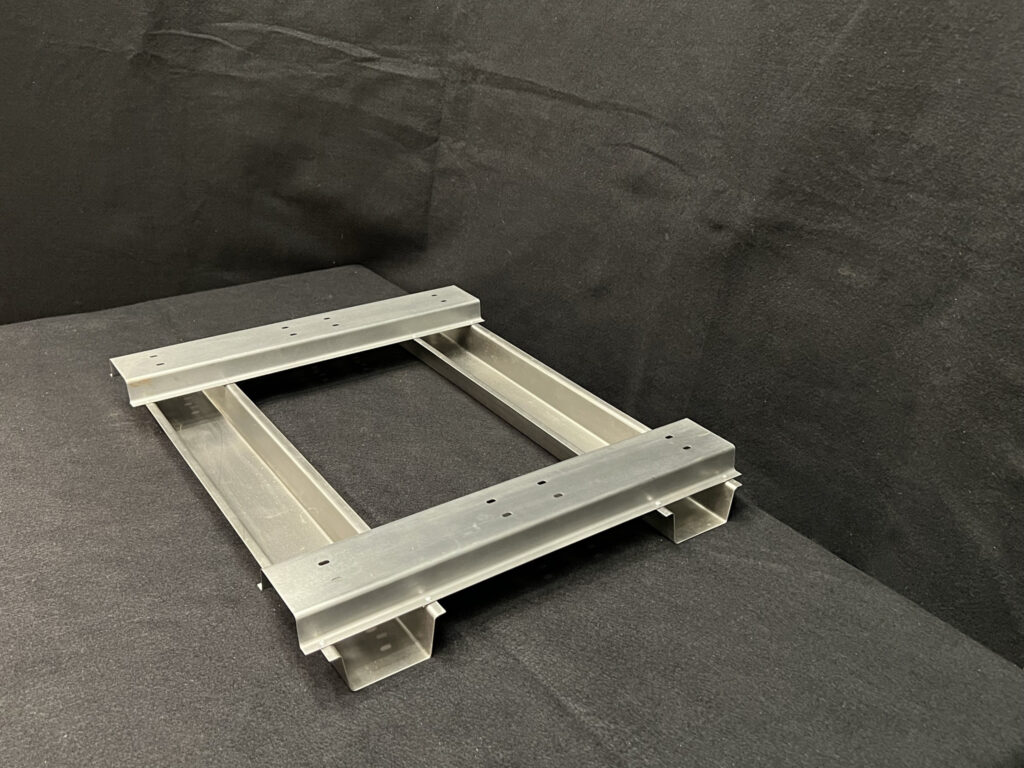 The Tub Girder Chassis
Crews assemble the chassis from two pairs of tub girders – a pair of upright lower runners and a pair of inverted overlapping stretchers. Crews fasten each overlap with four hydraulically installed lockbolts.
Tub girders can be fabricated from two stitch-welded zee-shaped sheet piles or press-brake fabricated steel plates. Vendors can hot-dip galvanize the sections to provide a minimum 60-year service life so landowners can repower the chassis instead of decommissioning it.
For SunFarmor generators needing additional ballast to resist wind uplift, crews can install concrete ballast blocks in the runners before or after towing the generator into place.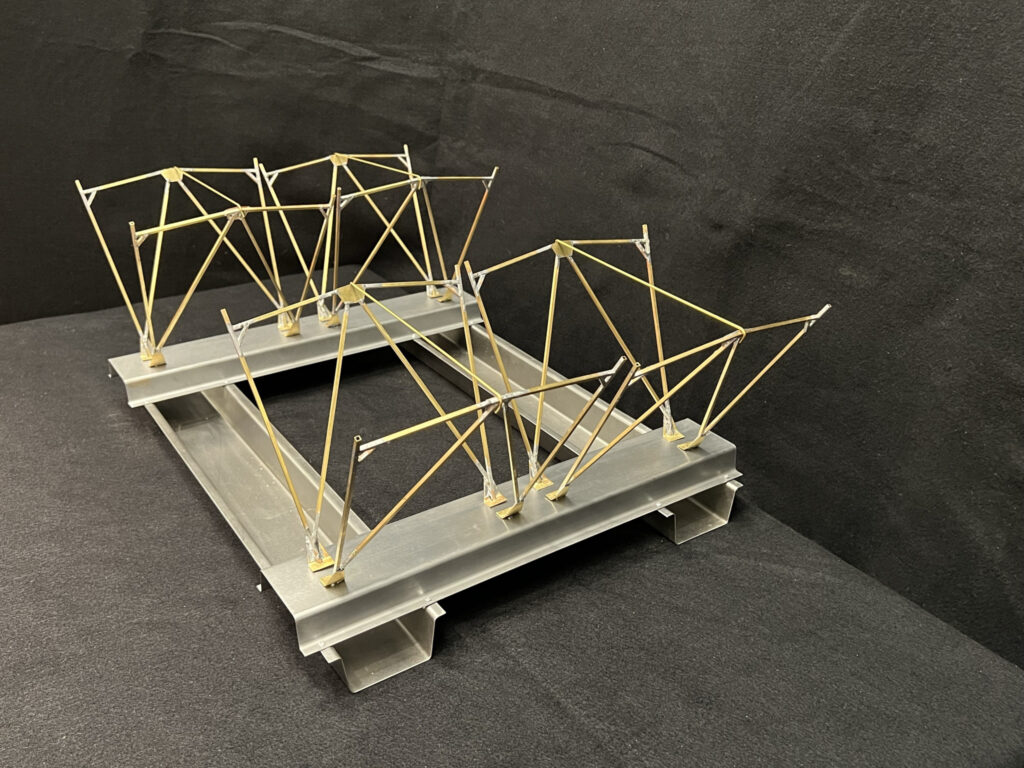 Diagonal Struts
Local welders fabricate the diagonal struts from 1-1/2 inch square steel tubing, welded with plate gussets at the feet and crown. SunFarmor provides full-size templates to the welders to ensure proper fit. The triangulated struts lend an appearance of a trestle bridge to the SunFarmor generator. Each of those triangles stiffens the upper tables while minimizing shading on the backside of the bifacial solar panels.
A telehandler lifts a biparting pair of struts to each location. Crews install a temporary drift pin in each foot before the struts lay back by gravity, limited by a sling attached to each strut. Crews then attach the feet of the diagonal struts to the tub girder stretcher with two lockbolts and remove the temporary slings.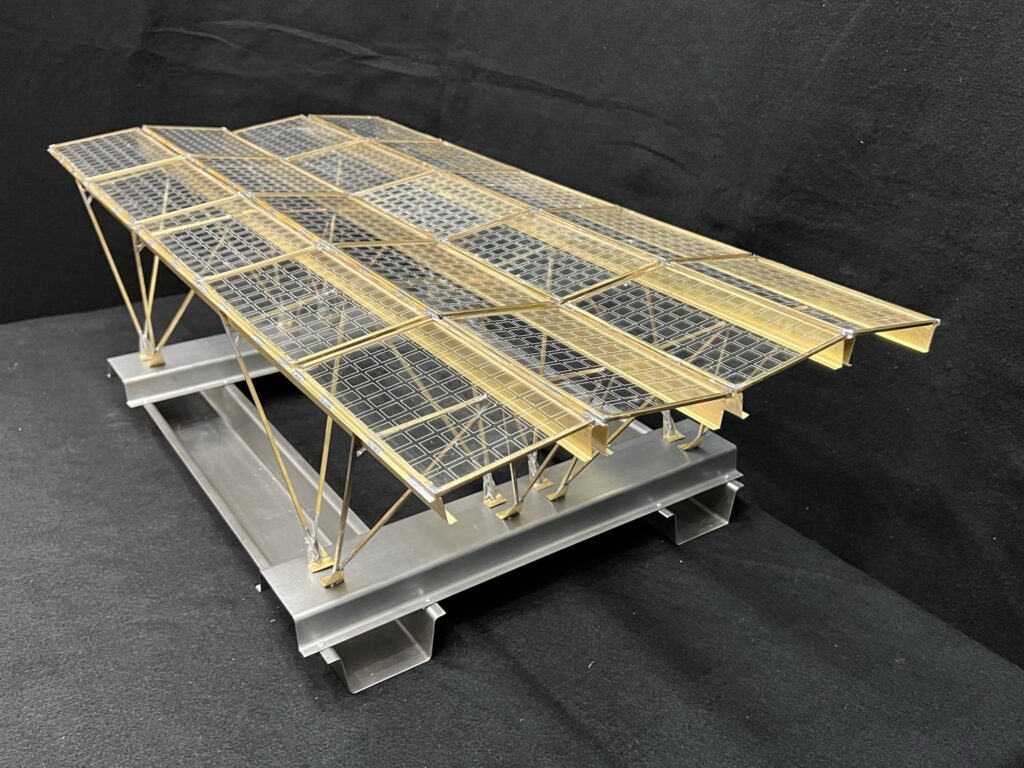 Bifacial PV Tables
The SunFarmor generator uses utility-sized bifacial photovoltaic panels with 210mm cells. EPCs attach the 1303mm (4.2 feet) wide PV panels, oriented in landscape, to two zee-shaped galvanized steel purlins. The EPCs leave a gap flanking the three central panels on each table so crews can attach hoisting slings to the purlins. A common telehandler can maneuver 36′ tables while crews use cranes for the 50′ long tables.
After lifting the PV tables in place, crews lockbolt the purlins to the diagonal strut framing at the eaves and a "keystone" spacer at the ridge.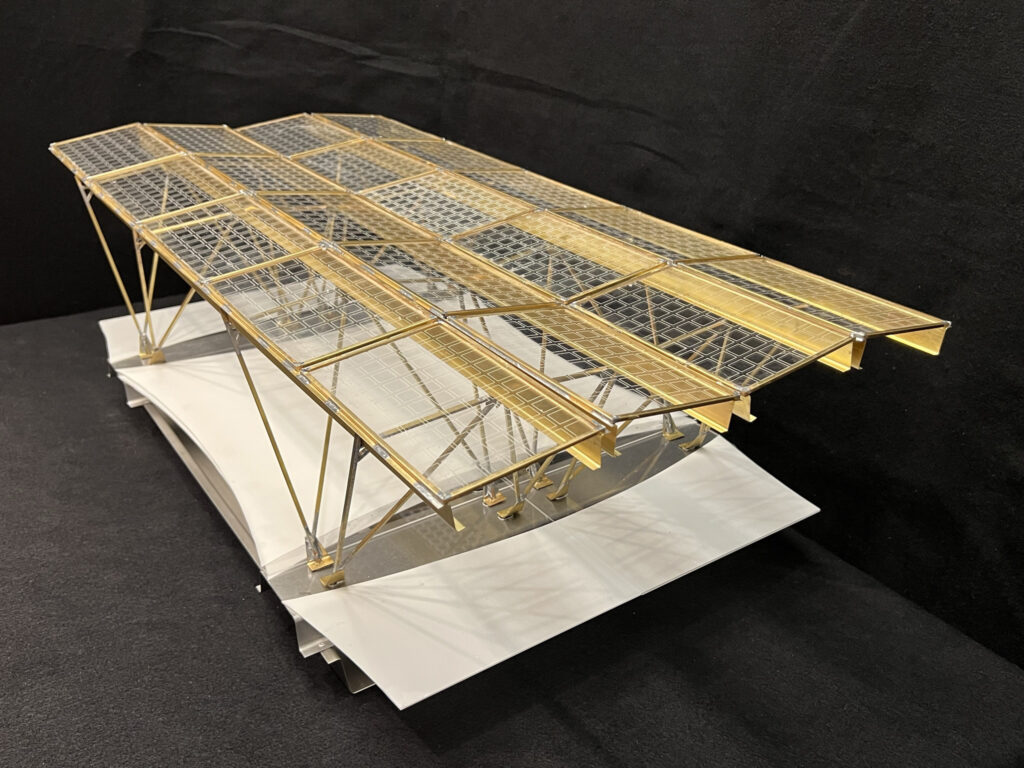 The Fabric Reflector
As a final step in the staging area, crews attach the fabric reflector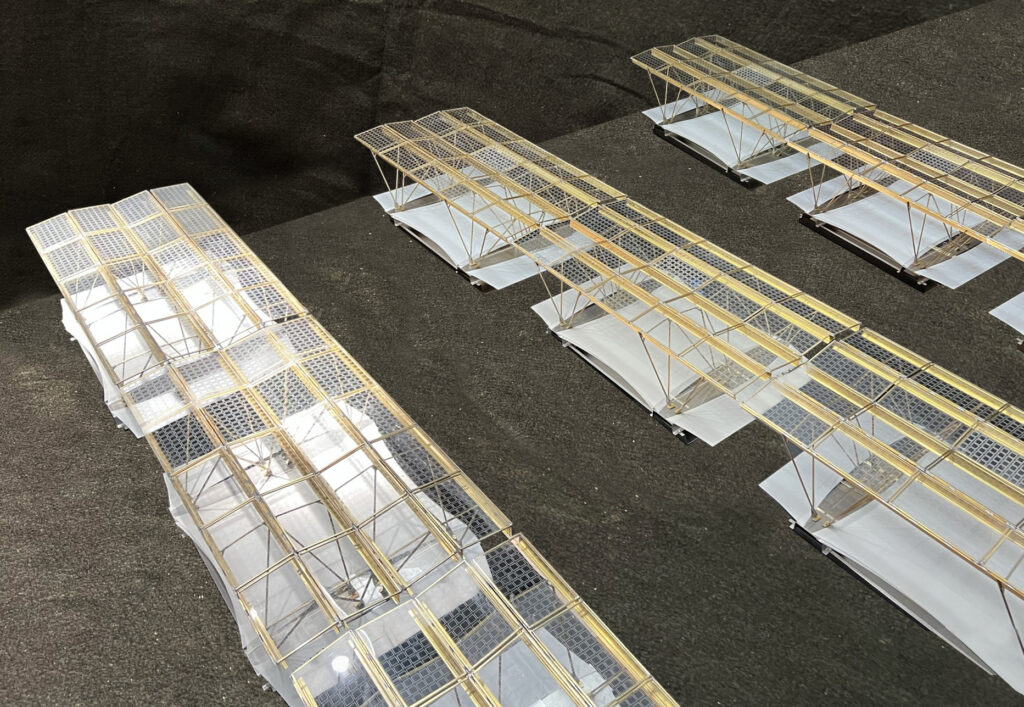 Solar Farm Columns
Crews tow SunFarmor generators into the field with a nosepiece that prevents rutting. They arrange them end to end in columns and connect the cables at the ridge of each gable before tensioning the end reflectors.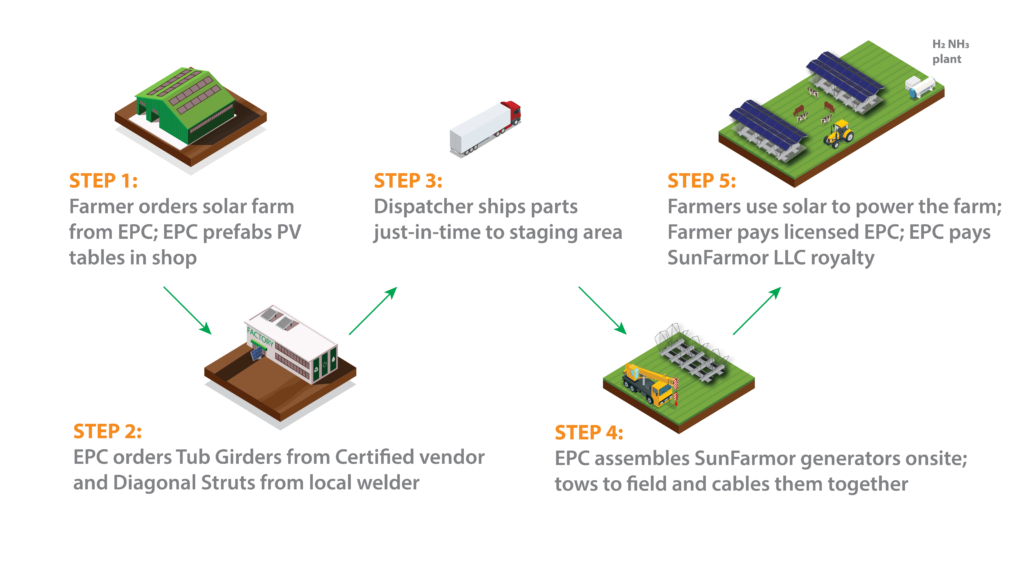 How it Works
SunFarmor uses distributed manufacturing to avoid the bottlenecks of labor and material manufacturing so farmers aren't left waiting for a technology that needs to scale rapidly. SunFarmor licenses EPCs (Engineering Procurement and Construction contractors) to build solar farms in weeks – not months or years. 
Incumbents design solar racking solely for solar developers. SunFarmor designs racking that any landowner can deploy. Owners can scale their solar farms as their operations grow by adding more SunFarmor generators in the future. Owners can move SunFarmor generators if needed, flexing with their operation.
Most importantly, farmers never need to decommission them. Instead, crews can repower the chassis with new solar panel tables for the second generation, repeating the original assembly process at a staging area. No existing racking can beat our low life-cycle costs.